You are required to DESIGN and CONSTRUCT a model of a building to a scale of roughly 1:25.
The model should stand up to the artificial earthquakes generated on the Shaking-Table in the EERC laboratory.
The Model
Your model must:
be made only from MDF board, paper, glue and string. ( Show Me )
have at least 4 floors and fit on 25 cm square base board. ( Show Me )

be able to carry 7.5 kilograms or more. (Show Me )
The Artificial Earthquakes
We will test models on the shaking-table for different sized earthquakes. We will start with a very small earthquake. Then we will gradually increase the size of the earthquakes to the maximum the shaking-table can produce.
For every model, we will make a note of the size of the earthquake that caused it's failure and use that to calculate an efficiency ratio.
The models with the highest efficiency ratio will be the winners.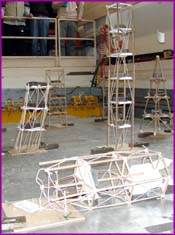 See a video of models failing on the shaking table. Download (525 Kb).
You need Real Player installed on your computer to play these videos. Visit the help pages to find out how to get a free copy.
Get advice on how best to view the video clips here.