Concrete Framed Buildings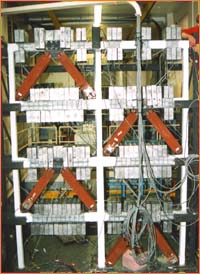 This is a quarter scale model of part of the structural frame of a 4 storey building constructed in reinforced concrete. The frame is strengthened by bracing members with metallic dampers at their bottom ends. This system was designed to strengthen buildings that have already been built, but that are not strong enough to resist earthquakes in their area.
Two versions of this model were tested for simulated earthquakes on the shaking-table, one with the bracing system and one without. This way the strengthening effect of the system could be investigated. The deformation and movement of the models were measured, and the degree of damage to each one was recorded.