Shih-Kang Dam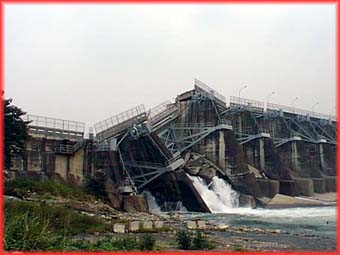 The Shih-Kang Dam is constructed from concrete. The thrust fault broke right through it. In this picture taken on its downstream side, you can see where the right hand side of the dam rose 10 metres compared to the left hand side. Fortunately, not much water escaped from the reservoir. If it had, serious flooding could have occurred damaging more structures and causing more deaths.
At the dam, the bottom of the reservoir also rose 10 metres. It is believed that this caused the water to flow back upstream into the reservoir, so no flooding occurred in the downstream direction.
The damage to the dam cut off the water supply from the reservoir. This reduced the water available to Taichung City and County by about a half.