Kobe, 17th January 1995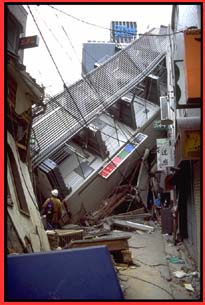 At 5:46 in the morning, a magnitude 6.9 (Mw) earthquake struck Kobe in Japan. About 5,500 people died and 35,000 were injured. Nearly 180,000 buildings were badly damaged or destroyed, leaving more than 300,000 people homeless that night.
The earthquake was caused by movement on a fault running from Awaji Island through Kobe. (See Map)
It lasted for only 20 seconds, but in that short time, very severe damage occurred. The resulting economic losses were believed to have been the greatest caused in modern times by any natural disaster.