The Northridge Earthquake, California, January 17th 1994.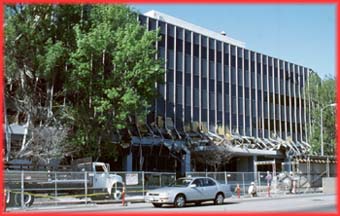 The Northridge earthquake hit Los Angeles in California at 4:31 a.m. on the 17th January, 1994. The Magnitude 6.8 (Ms) earthquake was caused by the rupture of a thrust fault buried deep below the earth's surface. (See Map)
Because many of the buildings in this region are designed to resist earthquakes, the death toll was relatively low with about 60 people being killed. However, 9000 were injured, and approximately 25,000 homes were left uninhabitable.