Izmit, August 17th 1999
The north-western region of Turkey was shaken at 3:02 a.m. on the 17th August 1999 by an earthquake of magnitude 7.4 (Mw).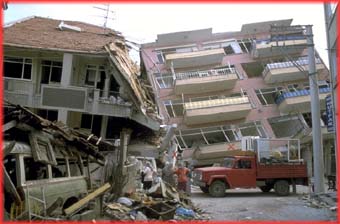 The epicentre was close to the city of Izmit, a densely populated area. The earthquake was caused by the rupture of the North Anatolian Fault over a length of 100 to 150 km. This fault is one of the most seismically active strike-slip faults in the world. (See Map)
The earthquake destroyed or damaged about 350,000 buildings, killing over 17,000 people and injuring over 44,000. 600,000 people were left homeless by the damage.